We are pleased to share with you our experience.
What is Kürtőskalács/Chimney cake?
Chimney cake or in its original Hungarian name Kürtőskalács, specific to Hungary and Hungarian-speaking regions in Romania, more predominantly the Székely Land it is a ribbon like yeast-raised dough, traditionally a wedding cake, that is wound around a special wooden cylinder, covered with sugar, and baked to order, on a charcoal grill until its golden brown.
During the baking process the sugar stuck on the kürtőskalács, caramelises and forms a shiny, crispy crust. The surface of the cake can then be topped with additional ingredients such as ground walnut or powdered cinnamon.
This delectable handmade sweet perfect crisp exterior and light fluffy inner dough gives its unique flavour and luxurious texture.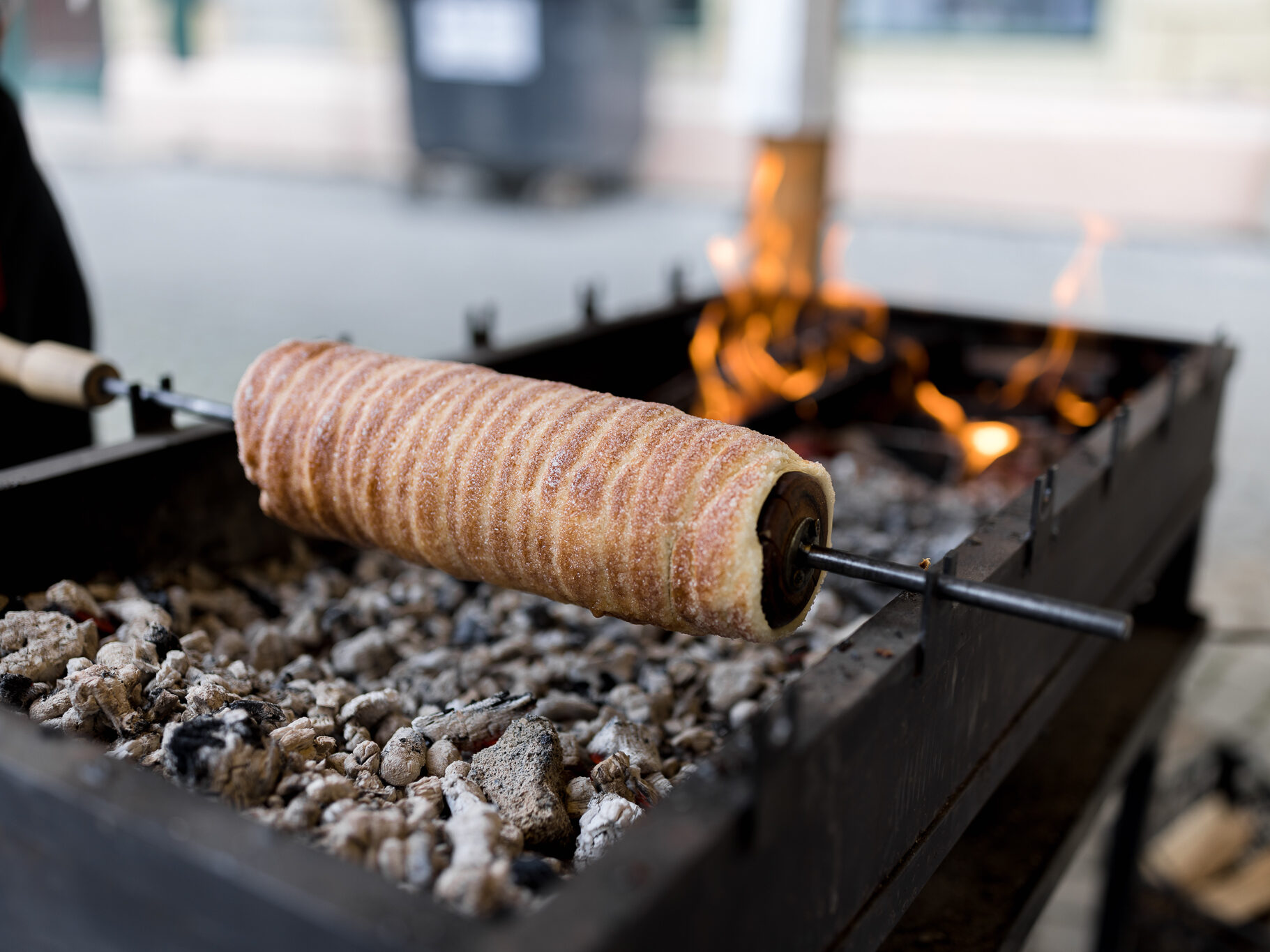 Lately market stalls selling them in a myriad of flavours, have been cropping up in every market in Europe, at Christmas, festivals, farmers markets… you name it.
They do taste incredible too, so it's not hard to see why they became so popular so quickly, and if you do get some, go on and try saying its real name, curt-osh kalach (Kürtőskalács).
Our main activity is the production of the Charcoal Kürtőskalács/Chimney Cake Grill. Our appliances are compact, takes small space, and are of high quality, it can be moved easily. Bakes the most beautiful Chimney Cakes/ Kürtőskalács.
Our small team has over a decade of experience and professional knowledge in this field, and we try to help our customers with real knowledge and experience gained during this time.
We decided to tell the world about chimney cakes – which is still our mission
When baking using your charcoal grill, if you are a traditionalist and prefer to use a charcoal grill, remember that charcoal will lend a different flavor to the Kürtőskalács/Chimney Cake .
In our offer we have everything to start baking and selling this delicious cakes.
Our Charcoal grills have been shipped all over the world, and include places such as:
Australia, Austria, Belgium, Bulgaria, Canada, Croatia, Denmark, Estonia, Finland, France, Germany, Georgia, Greece, Hungary, Lebanon, Lithuania, Ireland, Israel, Italy, Japan, Malta, Mexico, Netherlands, Norway, Portugal, Romania, Serbia, Slovakia, Spain, Switzerland, Sweden, UK, USA
With little investment you can achieve great satisfaction.
"Twist your kurtos"
Fejér Béla P.F.A.
+40 755 052 676
contact@kurtosgrill.ro
Sfantu Gheorghe,Bld. Gen Grigore Balan, nr 53, Bloc 9, Sc A, Etaj 2, Ap. 4, Romania
CUI: 33901144
F14/546/15.12.2014
www.anpc.ro